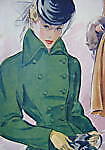 HERE are some useful translations of commonly used sewing terms that you will find on vintage french patterns. I have listed the terms into sections.
1)Garment types    2)Pattern pieces     3)Sewing terms    4)Common phrases
Garment types
Pattern pieces
Ceinture-belt/waistband
col-collar
corsage-bodice
Coutures-Seams
Crans–notches or holes for sewing guide                             Please help towards the upkeep of this website
Devant-front                                                                                      Just Click on any of the ads on the right->>
Dos -back                                                                                                                  No need to buy anything!
Empiecement-Inset piece                                                                                           Thanks for your help
Jupe-skirt
Manche-sleeve
Milieu-middle
Panneau-panel
Patte-tab or flap
Parementure-facing
Poche-Pocket
Poignet-cuff
Pointilles………points for sewing guide
Soufflet-gusset(usually for underarm)
Revers-collar/turn back cuffs
SEWING TERMS COMMONLY USED
— A —
agrafes (nf) : hook
aiguille (nf) : needle
aiguillée (nf) : length of thread
ampleur d'aisance (nf) : fullness

— B —
bande de boutonnage : shirt placket : French front
bati tailleur : tailor's tack
bâtir (verb) : to tack
biais (nm) : bias
biais (ruban) : bias tape
biais gansé (nm) : welt cord
boite à couture (nf) : sewing box
bouton (nm) : button (flat button)
bouton avec pied : shank button
boutonnage sous-patte : shirt placket : fly front
boutonnière (nf) : buttonhole
boutonnière passepoilée : bound buttonhole
braguette (nf) : fly

bras  : arms
bretelles :   straps
bride (nf) : button loop
broderie (nf) : embroidery

— C —
canette (nf) : bobbin
ceinture avec boucle : belt with buckle
ceinture de jupe : waistband
ceinture nouée : sash
chaine (nf) : warp
chemisette (nf) : shirt (with short sleeves)
ciseaux (nm pl) : shears
ciseaux à cranter (nm pl) : Pinking shears à cranter
coin (nm) : corner
coin avec onglets recto : mitered corner on one side
coin avec onglets recto-verso : mitered corner on both side
col (nm) : collar
col avec pied de col : shirt collar with clollar band
col châle : shawl collar
col claudine : Peter Pan collar
col officier : stand-up collar
col plat : soft collar
col rond ouvert dans le dos : round collar
col tailleur : revers vollar
coupe (nf) : the cut
coussin (nm) : cushion
coussin à bords gansé : cushion outlined with welt cord
coussin épais : box cushion
coussin simple : simple cushion
coussin traversin : bolster cushion
couture (nf) : seam
couture anglaise : French seam
couture de soutien (nf) : stay stitch
couture fermée (nf) : closed seam
couture ouverte (nf) : open seam (seam allowance pressed open)
couture rabattue : Flat felled seam

corsage : bodice
cranter (verb) : to clip
croquet : rickrack braid (GB), rickrack(US)

— D —
dé (nm) : thimble
décolleté (adj) : low neckline
découdre (verb) : to unstitch

dessus : on top

dessous : underneath

devant  : front

doublure (nf) : lining
dosseret (nm) : headboard
dos : back
drap housse (nm) : fitted sheet

droit fil- straight edge

du cote: at the side

du haut : at the top

— E —
emmanchure (nf) : armscye
empiècement (nm) : yoke
encolure en V : V-neck collar
endroit (nm) : right side
envers (nm) : wrong side

epaule : shoulder
épingle (nf) : pins
extrafort (nm) : binding tape

faire la pince : make the dart
faux ourlet : false hem
fente (nf) : slit
fente capucin : bound slit
fermeture Eclair (nf) : zipper
fil (nf) : thread
fronce (nf) : gathering

— G —
ganser (verb) : to trim with braid
gilet (nm) : cardigan
gilet sans manche : waistcoat
gros-grain (nm) : grosgrain
guimpe (nf) : blouse

— H —
hanche : hips

— J —
jupe (nf) : skirt
jupon : peticoat

— K —
kimono (nm) : kimono (usually refers to sleeves)

— L —
lisière (nf) : selvedge

— M —
machine à coudre (nf) : sewing machine
manche (nf) : sleeve
manche ballon : puff sleeve
manche raglan : raglan sleeve
mesures (nf pl) : measures
molleton (nm) : fleece
monter les manches : to set in sleeves
morceaux: pieces
moufle (nf) : mitten

— N —
nouer : knot/bow

— O —
ourlet (nm) : hem
ourlet roulotté : rolled hem

— P —
pantalon (nm) : trousers, pants
parement (nm) : facing
passant de ceinture : belt loop
patron (nm) : pattern
pattemouille (nf) : damp cloth
perroquet (nm, drawing instrument) : French curve
pied de biche (nm) : pressing foot
pince (nf) : dart
pistolet (nm, drawing instrument) : French curve
pli (nm) : pleat
pli creux : box pleat (h)
pli couché : flat pleat
pli nervure : pin-tuck
pli plat, pli creux : pleat inverted, folded outward
plis religieuse : horizontal tuck
poche appliquée : patch pocket
poche de côté de pantalon : side pocket
poche passepoilée : bound or welt pocket
poche revers vers le haut : slash pocket
poignet de chemise : shirt cuff
poignet mousquetaire : French cuff
point (nm) : stitch
point arrière : back stitch
point bati : tacking, basting stitch
point d'épine : feather stitch
point d'ourlet : hem stitch
point de bourdon : overcast stitch
point de boutonnière : buttonhole stitch
point de chaînette : chain stitch
point de chausson : herring stitch
point de croix : cross-stitch
point de feston : blanket stitch
point de palestrina : palestrina stitch, double knot stitch
point de piqûre : straight sticht
point de surjet : oversewing stitch
point de tige : stem stitch
point droit : running stitch
point glissé : slipstitch
point passé plat : satin stitch

poitrine  :  bust/chest

poser  :  place
pression (nf) : press stud (GB), snap fastener(US)
pull (nm) : pullover

— R —
rapiécer : to patch
remailler : to mend a ladder
renfort de coude (nm) : elbow patch
repasser (verb) : to iron
repriser (une chaussette) : to darn (a sock)
revers (ourlet de pantalon, manche) : turn-up, cuff
rideau (nm) : curtain
robe chasuble (nf) : pinafore dress
roulette à patron (nf) : tracing wheel

— S —
sac (nm) : bag
salopette (nf) : dungarees, overalls
sans manche : sleeveless
set de table (nm) : table mat
smocks (nm pl) : smocking
sommier (nm) : bed base
sous-taie (nf) : pillow protector
surfiler (verb) : to overcast, to oversew
surjeteuse (nf) : serger
surpiqûre (nf) : top stitch

— T —
taie d'oreiller (nf) : pillow case
talonnette (nf) : hem binding
tissu (nm) : material, fabric
trame (nf) : weft
tricot (nm) : knitting
triplure (nf) : interlining
trousse de couture : sewing case

— V —
veste : jacket
volant (nm) : frill
Common phrases
COUTURE NON COMPRIS…………………………………..SEAMS ALLOWANCES NOT GIVEN
essayer le patron avant de couper le tissu………………..Try the pattern before cutting the fabric
Plier le tissu en deux………………………………………Fold the fabric in 2
Reunissant les lisieres…………………………………….Join the selvedges
Droit fil………………………………………………………..on the grain of the fabric
Milieu droit fil sans couture…………………………On the grain of the fabric without cutting ie. on the fold
Couper double…………………………………………..Cut double
Faire les pinces…………………………………………….Make the darts
Former les plis…………………………………………….Form the pleats
Monter (les manches)…………………………………..Place (the sleeves)
Assembler les coutures……………………………….Make the seams
Terminer par l'ourlet du bas…………………………Finish by hemming the bottom
Assembler la couture du dessous/dessus de (bras)……………Make the seam under/on top of the(arms)
Fermer la couture…………………………………………………close the seam
Faire le boutonnage……………………………………………Make the buttonholes
Puis assembler(les pieces par une petite piquire)………..then assemble(the pieces by a small seam)
Puis prolonger cette piquire(par un rempli faufille)…………..Then lengthen this seam by(basting together)_
Tirer les fronces……………………………………………………….pull in gathers
Common phrases
COUTURE NON COMPRIS…………………………………..SEAMS ALLOWANCES NOT GIVEN
essayer le patron avant de couper le tissu………………..Try the pattern before cutting the fabric
Plier le tissu en deux………………………………………Fold the fabric in 2
Reunissant les lisieres…………………………………….Join the selvedges
Droit fil………………………………………………………..on the grain of the fabric
Milieu droit fil sans couture…………………………On the grain of the fabric without cutting ie. on the fold
Couper double…………………………………………..Cut double
Faire les pinces…………………………………………….Make the darts
Former les plis…………………………………………….Form the pleats
Monter (les manches)…………………………………..Place (the sleeves)
Assembler les coutures……………………………….Make the seams
Terminer par l'ourlet du bas…………………………Finish by hemming the bottom
Assembler la couture du dessous/dessus de (bras)……………Make the seam under/on top of the(arms)
Fermer la couture…………………………………………………close the seam
Faire le boutonnage……………………………………………Make the buttonholes
Puis assembler(les pieces par une petite piquire)………..then assemble(the pieces by a small seam)
Puis prolonger cette piquire(par un rempli faufille)…………..Then lengthen this seam by(basting together)_
Tirer les fronces……………………………………………………….pull in gathers