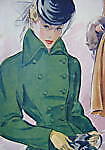 Here you will find a brief history of vintage French sewing/dressmaking patterns and vintage magazine publications with sewing pattern supplements from France. I will be adding more photos from my collection so please call back to see updates!
A selection of magazines and patterns
"Journal des Demoiselles"      pub.1834. The earliest pattern book in my collection. Contains 10 sewing pattern sheets with items of clothing on for enlargement.
This series of Hardback books carried on in publication for the next 30-40 years and often contained sewing pattern pullouts.
"Magasin des Demoiselles"   This business published large sewing pattern sheets on yellow paper with exquisite designs for embroidery. On occasion though full size patterns were published-I have one for a corset/basque top pub. in 1845 that can still be made up today.
Mode Illustree commenced in the 1860s-to 1930s – 
magazine and large sewing pattern sheets for tracing out
A typical pattern sheet from Mode Illustree from 1890
Moniteur des Dames et Demoiselles-1860s-1890s-magazine and large sewing  pattern sheets for tracing out
Mon Aiguille 1890s-1930s-magazine and large sewing  pattern sheets for tracing out
Mode pratique -1890-1960s?   magazine and large sewing pattern sheets
for tracing out-these pattern sheets have many lines-for advice on using mode pratique patterns please visit
http://fabulousfrenchvintagepattern.com/using-french-patterns
mode pratique sewing pattern sheet 1909
La Brodeuse-Large Embroidery sheets
Jolie Modes de Paris-magazine and precut sewing patterns 1905-1920
La Mode-1880-1920         magazine with miniature sewing patterns
Miroir des Modes was publisehd by Buttericks in Paris during the Edwardian era-this lavish magazine illustrated a large number of wonderful sewing patterns for sale.
Modes et Travaux-commenced in 1920s-still publishing sewing  patterns-early editions of this beautiful  magazine include large pattern sheets for embroidery
Echo de La mode-commenced 1904-published magazines, pre-cut sewing patterns in separate envelopes and mini sewing patterns for enlargement
Je m'habille-published in the 1940s-often contains mini patterns for enlargement
Marie Claire-1930s-today    Magazines and pre-cut sewing patterns
Patron Minerve 1920s-1940s  Precut sewing patterns in envelopes
Nouveaute 1930s-1940s-Magazine with precut pattern supplement
Patron Universels 1930s-1950s Precut sewing patterns in envelopes
Patron Favoris 1920s-1960s-Precut sewing patterns in envelopes
Patron votre Mode 1950s only Precut sewing patterns in envelopes
Femmes D'aujourd'hui 1940s-1980s  Magazines with sewing patterns on large sheets for tracing out
During World War 2, a number of magazines featuring patterns continued to be published in Paris-in particular Echo De La Mode-and each week would usually feature a pattern printed onto the pages of the magazine.
Here is a selection of pictures of most of the vintage French sewing pattern brands  that were published in pre-cut form from the 1920s till the late 1950s.
The brands include Patrons de Marie Claire, Patrons favoris et Parisiennes, Patron Elegance, Patron Modele, patron parisien, Patron universel, patron echo de la mode, Patron nouveaute. Not pictured are Patron Chiffon and Patron Minerve.
There are rarely instruction leaflets in the pattern envelopes. Instead the instructions and pattern layouts are to be found on the back of the envelope, with often brief instructions as to enlarging or decreasing the pattern for different sizes.
Most Vintage French sewing patterns for women are designed for Taille 44-approx UK 12/14 although other sizes were also published
Here are some rarer French vintage sewing pattern brands, including patron Elegance published in Paris in the 1940s and Patron Herbillon-published in the 1950s in Brussels
More couture patterns from the 1940s-these are pre-cut patterns on dress making paper